BUILDING THE BODY OF CHRIST AT TRINITY
STORIES FROM THE COMMUNITY
Invitation from Jeff Brinkmann
Trinity Stewardship Co-Chair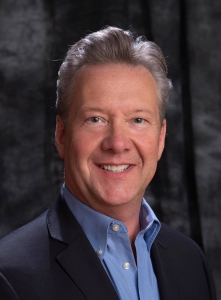 When Mother Julia asked me to be Co-Chair for Stewardship, I said, "Yes." I find it almost impossible to say no when she makes a request of me…and I think she knows it! Later, I had the dreaded thought, "Why did I do that?" Well, the answer is really quite simple: I love Trinity. 33rd and Meridian has been my spiritual home for nearly 16 years. I can't remember the exact date, but I do remember feeling instantly at home and knowing Trinity was a special place. You see, I had spent 42 years as a weekly, church-going (but very un-engaged) Roman Catholic.
To me Trinity is so many things. It is a beautiful worship space, a wonderful musical mecca, a haven for those in need, an opportunity to be blessed by giving and receiving, and a place to identify needs and start new ministries. Trinity is a special place. The reason it is so special to me is all of the people who sit in the pews and make Trinity their church home.
As you consider your pledge for 2020, I would ask you to reflect on what makes Trinity special to you.
Please think about how Trinity touches others and how your dollars can help us do even more.
Prosper
&

Sidonie's Story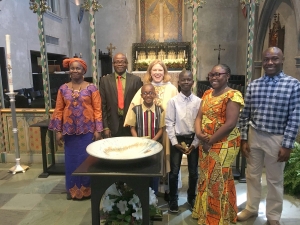 Notre famille aime aller à l'église parce que nous sommes chrétien et nous voulons prier à Dieu.
Nous allons à Trinity Episcopal Church parce que cette église nous a accueillé si chaleureusement à Indianapolis en Novembre 2016. Aussi, Trinity a beaucoup aidé notre famille et Trinity aime tout le monde.
Our family likes to go to church because we are Christians and we wish to pray to God.
We go to Trinity Episcopal Church because this church welcomed us so warmly to Indianapolis in November 2016. Also, Trinity has greatly helped our family and Trinity loves everyone.
– Prosper, Sidonie, Alex, Vanessa, Giscard, and Dieudonné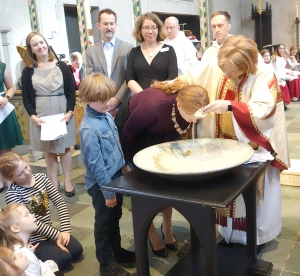 As a newcomer to Indianapolis in 2016, I sought out opportunities to get to know my new city and was intrigued by the Real Talk series offered by Trinity. The first time I attended Real Talk several church members welcomed me and invited me back. Growing up I did not attend religious services, so initially I was hesitant to get more involved at Trinity. However, there continued to be other educational opportunities that intrigued me and I kept coming back, and the same friendly faces were there to greet me. After about a year of participating in activities I had coffee with Mother Julia and told her my story, expecting her to tell me that I needed to be more certain. Instead, Mother Julia said that I was welcome at Trinity no matter where I was on my spiritual journey. God loves you, no exceptions.
I walked away from coffee that day, surprised, but determined that I would embark upon a year-long trial of attending church. This was a pleasant surprise to my husband, Tom, who had been asking me to attend church with him for years. During my trial year I got involved in the Exodus Welcoming Team, Sunday Dinner, and Trinity Haven. We joined a discipleship group, attended adult forums, and community conversations. At the end of my year-long church trial I reflected on my experience and realized our family was part of a community and it felt like home.
I realized at that time that I wanted to make my commitment more formal, so I reached out to Mother Julia and asked her to baptize me. It has been a year since my baptism, and I continue to be grateful for this community, the outreach work we do, and the educational offerings that encourage our family to learn and grow.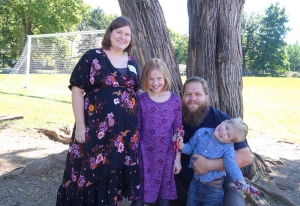 The summer and fall of 2017 were very difficult times for our family – we suffered two miscarriages, and were in transition in our faith. Both Ben and I had grown up in evangelical churches, but our beliefs were moving us away from that tradition. Ben had attended the Easter Vigil at Trinity and found himself feeling as if he were at home at the service – but it took me a while to come around… mainly because I was afraid. However, it was the Feast of St. Francis that finally brought me to Trinity. The thought that I could bring my beloved dog Wendell with me to church? That wasn't so scary. In fact, it was inviting, welcoming, and exciting.
I remember the service well. I connected with the sermon, the liturgy, the music… and our children loved the service with all the animals and other kids. We ALL felt welcome, too – something different in our experience. I found myself immediately filling out a card to get more connected. We came back and we started to get to know people. People started calling us by name, giving us hugs, and just plain showing us we were welcome and loved. The church helped me heal from my losses, and when we became pregnant with Silas, the church family journeyed with us and even organized two meal trains, a diaper shower, and welcomed our new baby with open arms. Our kids were a part of the church, they made friends, and they could be involved in service too.
There have been so many times when I have received confirmations that Trinity is our home – the church retreat at Waycross, Ben and my confirmation, Christmas Eve, Easter, discipleship group, and the very special day our three children were baptized together among our church family. And then other things: passing the peace, Communion, coffee hour… and even every time I drive past the church on Meridian I find myself smiling. We feel welcome, we feel at home, and we feel at peace. Trinity is our home, and we are so happy that God has brought us here.
Why I Love Trinity And Pledge Every Year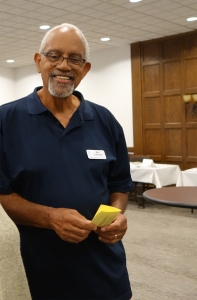 Our initial attraction to Trinity Episcopal Church was the outstanding youth programs. On the basis of a recommendation by the Hight family, our youngest children enrolled in Rite-13 and progressed through Journey to Adulthood. I attribute much of their success as adults to their experiences at Trinity. I fondly remember years of baking cookies, hauling kids to Bradford Woods, and cleaning vacant lots in the neighborhood. I also relish the memory of them flashing smiles at me as they returned from the communion rail during mass.
I made a natural progression to the Trinity outreach programs. Trinity's outreach efforts have provided multiple opportunities for me to give back to our community and to support those in need. Volunteering at the Mid-North Food Pantry, painting the dining room, serving dinner at the Day Spring Center, and working along-side my son on Habitat for Humanity projects, have been very rewarding and fulfilling.
During a term on the Vestry, I served a year as Outreach Coordinator. It was at this point that the fledgling Childcare Committee, citing the absence of affordable early learning throughout Indianapolis, floated the idea for an early learning program for infants and toddlers. I asked to join the group which enjoyed the wholehearted support of the Vestry and Clergy and the rest is history – St. Nicholas Early Learning Inc is now an independent 501(c) (3).
Most recently, I have been pleased to be involved with the Working Group on Social Justice and Reconciliation. The response from parishioners and Clergy has been very encouraging. Lots of hot topics and useful information have been presented and discussed.
Finally, the fellowship and camaraderie of the Wednesday morning Men's Breakfast group and participating in the hospitality of the Guild of Unexceptionable Cuisiniers is most enjoyable.
So, in addition to the usual expenses necessary to run a parish, I know that the annual pledges from my wife Judy and I contribute to nurture and support these important programs. It continues to be money well spent.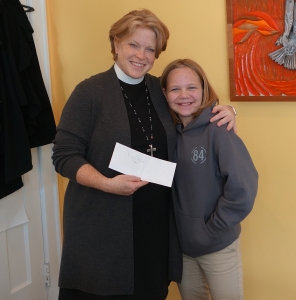 I am 13 years old and have been a member of Trinity for nine years. I am an acolyte, a chorister, and a member of the Youth Group. I like Trinity because I have made a lot of friends here. Being a chorister has also helped me to improve my singing and get a part in the school play this year. I also went on the Choir Pilgrimage this summer and visited England and France. It was my first time out of the country. I had a great time singing with the choir and being there with my friends.
I decided to start pledging to Trinity last year when I learned about Trinity Haven. I was surprised to learn that some families kick their children out of their houses when they come out as LGBTQ+, I have several LGBTQ+ friends and it made me really sad to know that kids like them were homeless. Everyone deserves to be loved and have a home no matter who they are. I was really happy that Trinity helped to start Trinity Haven to give homeless LGBTQ+ children a place to live. It means a lot to me to be part of a church that helps people who are the most vulnerable.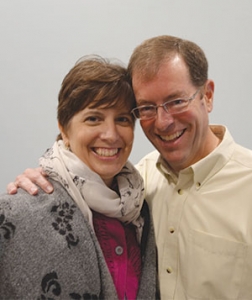 My earliest memories of Trinity revolve around the kitchen. In one, I'm about four years old standing in the doorway, focused on savoring the M&Ms that my mother had given me as a special treat. In another, I'm about 6 years old and I'm seated on a stool on the oven side of the island making a Christmas ornament with others, and yes, I still have that ornament!
Kitchens are a source of food & nourishment and a gathering place for family & friends. I absolutely love that the kitchen features so prominently in my first impressions of Trinity, and what a perfect metaphor for what Trinity means to me. I am fed and nourished and embraced by a caring community in so many ways.
My father, a former Trinity parishioner, once reflected that it's certain that we have received from Trinity more than we've given, and I agree, but also wonder, how can I express my gratitude? How can I help others have the same experiences? How can I live out my baptismal vows to "seek and serve Christ in all persons?"
Some of my answers are to show up, pray, listen, greet, serve, share, read, sing, study, give, and last but not least, pledge. My husband David and I pledge our financial support to Trinity as one way of living out our faith. We know that as members of a church community we need to provide financial support and we also know that Trinity needs our financial support to operate as an effective church. By pledging, we acknowledge and embrace our roles as members of Trinity.
If you've been fed and nourished and embraced by Trinity, I hope you'll join David and me and make a pledge.