Music at Trinity is diverse, creative, and widely recognized for its excellence. Special musical events at Trinity include services of Choral Evensong, organ recitals, choir concerts, and guest performances. 
Christmas is a particularly joyful time for music. Trinity celebrates the season with a festive Madrigal Dinner and a service of Lessons and Carols. Both of these Advent and Christmastide services reach beyond the parish and draw many from the city into our sacred space. 
For more info about Music at Trinity, contact Dr. Michael Messina: [email protected] 
Learning the music of the Church is very much a part of our core value of education. Trinity Choir is a mixed intergenerational choir of professionals and volunteers—adults and teens—who work hard and love to sing. Rehearsals are held on Wednesdays, from 7-9 p.m. and Sunday mornings. The choir sings Sundays and holidays plus concerts, Evensong, and special programs. 
Trinity Choristers is for boys and girls at least 8 years of age or in the third grade. Rehearsals are on Tuesdays from 4:30-6:30 pm, with snacks provided by parents. Choristers sing in church three Sundays/month (September through Trinity Sunday) as well as holidays, Evensong, and concerts.
Besides regular worship services, Music at Trinity offers year round music programming, including concerts with choir and orchestra, guest ensembles and soloists, and the Choir Cabaret.
The Madrigal Guild puts on the annual Trinity Madrigal Feast each Yuletide Season. While the choir primarily provides the entertainment, the guild provides the feast and decorations to make it happen.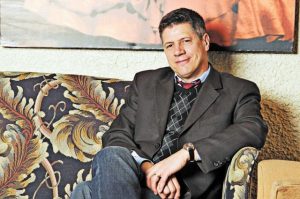 Parishioner, Steven Stolen, founded Meridian Song Project in 1997 and has been its resident artist for free concerts since that time. Stolen is also producer and host of the wildly popular, STOLEN MOMENTS on WFYI (90.1FM) Radio.
He has two independent recordings of popular songs, a featured recording of the Britten Serenade for Tenor and Horn on Summit Records, and over 30 different recording projects with Hal Leonard Publishing, the world's largest music publishing company.