Formation Offerings This Week
Sunday, November 22 @ 11:30 am: Online Adult Forum: Trinity's Story! With parishioner John Bridge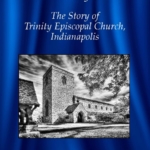 Join us in hearing from parishioner John Bridge about his new book: Be Thou My Vision: The Story of Trinity Episcopal Church Indianapolis. We are so grateful to John for this fabulous contribution to our Trinity community. It promises to be a fun and interesting conversation about Trinity's history and how we came to be who we are today.
Join the Zoom meeting.
Meeting ID: 844 4699 9461
Passcode: 717990
Orders are now open for Be Thou My Vision: The Story of Trinity Episcopal Church Indianapolis, by John Bridge. Order your book here!
---
"Communion and Community" Speaker Series
Communion & Community is a speaker series that invites church leaders to reflect on contemporary ecclesial and social questions. Through quality lectures and conversation, guest speakers will engage the Trinity community in reflection on—and creative response to—the key issues facing the church on a local and national level.
Sunday, 09/27 @ 11:30 am: The Rev. Jim Farwell, Professor of Theology and Liturgy, Virginia Theological Seminary
Thursday, 10/16 @ 6:30 pm: The Rev. Emily Scott, Lutheran pastor (ELCA), church planter, and the author of For All Who Hunger: Searching for Communion in a Shattered World,
Thursday, 10/29 @ 7 pm: Dr. Don E. Saliers, Theologian in Residence, Candler School of Theology of Emory University
Thursday, 11/12 @ 7 pm: The Rt. Rev. Jennifer Baskerville-Burrows, Bishop of the Diocese of Indianapolis
---
Join a Small Group
Though we cannot be together in person, we can still connect online! Now more than ever, we need to create time for community. Trinity has a range of small groups available online and more on the way. Contact Mother Erin, [email protected], or Father Ben, [email protected], to join a group or propose something new. If you're interested in joining a small group and want to learn more, fill out this quick form.
Bible Study and Book Study Small Groups
These ongoing groups meet regularly and are designed for people who want to specifically study theological texts or scripture in a small group. Standing groups include a Monday Bible Study with Father Ben and a Tuesday Book Study with Mother Julia. For more information or to join, fill out this quick form.
Shared-Interest Small Groups
These ongoing groups meet regularly or connect via social media for people with similar interests and/or stages of life. Groups include: Trinity Men's Breakfast, Working Group on Social Justice and Racial Reconciliation, Caregivers' Support Group, Trinity Knitters, Trinity Parents (PREP) and Trinity Parents of Episcopal Teens (PETS), among others. For more information or to join, fill out this quick form.
Discipleship Groups
These ongoing groups meet regularly and are typically closed to others once the group has formed. Intended to be small and personal, these groups focus on praying and sharing spiritual life together.
Nadia Bolz Weber, modern theologian and minister says "Gather in a small number of people regularly to simply share a meal and pray together. Talk about your lives and what is happening in the world. Be yourselves."
We think this is a great description of what a discipleship group entails. Gather together, check in with one another, read some scripture together, discuss it and discuss what's happening in the world, and pray for each other. We hope you will consider being part of one of these forming Discipleship groups. It is groups like this that will help us celebrate the joys and the concerns we carry on our hearts and it's groups like this that are sorely needed, especially in this time.
If you would like to join a Discipleship group, please fill out this form. If you have any questions please feel free to email Mother Erin or Father Ben.
We have moved our Wade in the Water Lenten Series online. Click for details and new learning videos created by Mother Erin.
Follow along past course materials with the links below:
TRINITY EPISCOPAL CHURCH
3243 North Meridian
Indianapolis, IN 46208-4677
(317) 926-1346
JOIN THE WEEKLY NEWSLETTER