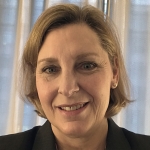 Tricia McMath, Senior Warden
I have spent over 20 years as an appellate public defender representing persons convicted of criminal offenses. Currently I work for the Indiana Attorney General as Section Chief of Civil Appeals. The skills I bring to Trinity's vestry include the ability to recognize issues, listen to others, and identify the common grounds that lead to collaboration and mutually constructive solutions.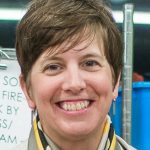 Gayle Holtman, Junior Warden

I have spent the past 6+ years helping transform ArtMix from a nonprofit on the verge of closing down to a nationally award-winning organization. This has required a great of passion and patience, and careful stewardship of limited resources. I value clear goals, teamwork, facts, prayer, and fun. I strive to daily live out our baptismal covenant, respecting the dignity of every human being I encounter.
CLASS OF 2022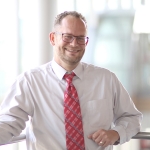 Bobby Bell
I am Assistant Director for Marketing and Recruitment Communications for the Office of Undergraduate Admissions at IUPUI. No matter what hat I'm wearing – to be a problem solver. I truly enjoy taking an issue and strategizing on all the possible paths that can be lead us to the solution we're trying to achieve. At Trinity, currently I co-leader for the Rite-13 youth group; member of the Trinity Greeting Team; member of the PREP family group; previously assisted in the coordination of Trinity's presence at the Cadillac-Barbie Indy Pride Parade; rumored to moonlight as the Magi Melchior at the Annual Epiphany Party for the past three years.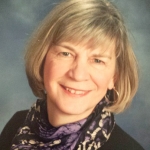 Deborah Cooney
Currently, I serve on the Exodus Welcome Team, the Lector Guild, and am a Chalice Bearer. During the 23 years that I have been a member of Trinity I have served on the Rector Search Committee, co-led the 2-year Julian of Norwich Contemplative Study, convener of Journey in Faith. I have offered Centering Prayer, the Labyrinth, and other contemplative practices. Our four daughters (Jennifer, Natasha, Melissa and Emily) all went through Rite-13 and Journey to Adulthood, and now our granddaughter, Rose is in Rite-13. I have been an educator throughout my career and am currently the Vice President of Indianapolis Classical Schools (Herron HS and Riverside HS). I have always been passionate about education and the health and well-being of children, both here in our country and abroad.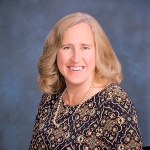 Marlene Marchesani
I went to Butler University and then to graduate school at Indiana University School of Optometry. I have had an optometry practice on the east side of Indianapolis for 28 years. I have been a parishioner at Trinity for six years but have been linked with Trinity for 25 years as we were raising our children at St Richards Episcopal School. All three of my children benefitted from their participation in Rite-13, Journey to Adulthood, and Pilgrimage .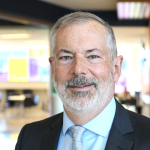 Bill Mirola
Since completing my doctorate in 1995, I have spent my entire professional career at Marian University, where I currently serve as Dean of the College of Arts and Sciences. As a member of Trinity since 1991, I have served in many capacities. Most know me as one of the Ministers of Ceremonies at the 10 a.m. Sunday service. My previous leadership experiences include serving on the Trinity vestry twice, serving on the Saint Richards Board for six years, being a member on the rector and interim rector search committees, representing Trinity at several diocesan conventions, working as a legislative aide at four General Conventions, and a leader in the Journey in Faith program for many years. I have also been a Rite-13/J2A leader for two groups of youth, served on the Worship Committee, been a lector and a chalice bearer, and played roles in several Madrigal performances as well as being on the cooking team for Madrigals more recently.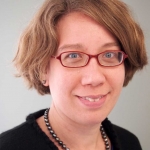 Shana Stump
I teach in the Political Science Department at IUPUI. I am also a licensed attorney, and before teaching full time, I practiced law with a focus on general business litigation. My husband, Brian Steensland, and I attend Trinity with our two daughters: Minna and Maxine. For the last two years, I have co-chaired Trinity's annual stewardship campaign, which includes participating in the Trinity Financial Working Group. I am a member of the board (and the governance committee) of St. Nicholas Early Learning, Inc. With my family, I convened a Discipleship Group for families newer to Trinity and/or the Episcopal Church. I serve on a Sunday Dinner team, have taught the preschool Sunday School class, and have served at the Mid-North Food Pantry.
CLASS OF 2021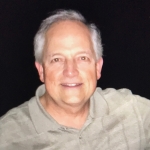 Rick Beardsley
I am retired from my 40 year career at St Francis Hospital this month. I am a physician in geriatrics, family medicine, and a teacher of geriatric medicine. I grew up in Frankfort Indiana, graduated from DePauw University, and Indiana School of Medicine. My interests are gardening, art, travel, and running. I am involved with the Sunday Dinner as a team leader and hope to further help improve that important program. I am also involved with the Unexceptionable Cuisiniers, which has provided great fellowship as well as service. I think that this is an exceptional and unique church with potential to further expand services to our community and parishioners.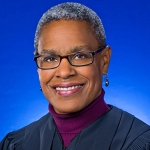 Linda E. Brown
I am a judge in the Marion Superior Court, in my 18th year of serving the community, presiding over misdemeanor cases. I am a member of the Marion County Bar Association, Indianapolis Bar Association and the Indiana State Bar Association. I have been a Trinity parishioner since 1996 and currently serve as a member on the Altar Guild and the Choir. I was baptized at Trinity as an adult and my spiritual journey has continued to enrich my life in ways I never expected.
Mary Chalmers
Currently I serve as Lector, Chalice Bearer, and Newcomers Welcoming Committee; and with my husband Brockton Brown: Lay Eucharistic Minister, Welcoming Team working with Prosper and his family, Madrigal Dinner, and Guest Host at Waycross Camp & Conference Center. Trinity and its people are a huge blessing to my life. I am thrilled to be part of the Newcomer Welcoming Committee and working on finding ways to be more intentional about welcoming newcomers. Community and Communion is what I see as the basis for planning our 100-year celebration and for going forward as a community-engaged, spiritually uplifting church.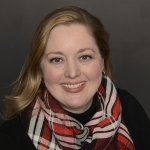 Ann Smith
I am an attorney and also hold master's degrees in Philanthropic Studies and Public Affairs. I spent 20 years in the nonprofit sector, beginning at a homeless shelter and soup kitchen in North Carolina and ending as a planned and major gift officer for The Nature Conservancy. In 2017, I opened the Ann Smith Law Office, a solo practice specializing in elder law and estate planning. My husband, David, and I were married at Trinity in 2008. Since 2015, our family has participated in Trinity's Welcoming Team, which partners with Exodus Refugee International to welcome refugees to Indianapolis.
CLASS OF 2020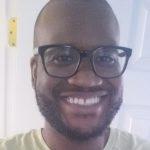 David Bacon
I believe Trinity can and should take a larger leadership role in reducing violence near the church. As a resident and parishioner, I believe that I can serve as a bridge between the church and the organizations that are working to stop this violence. As a member of the Vestry I can make myself available to local organizations as a representative of our congregation so that those in the community can know that we are committed to serving God by loving our neighbors as ourselves.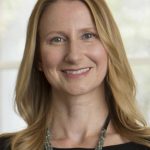 Leigh Ann Hirschman

I look forward to helping with the great balancing act of a church: the need for careful financial stewardship and openhearted generosity; the need to care for our physical plant and the most vulnerable of our neighbors; to treasure our beautiful music, liturgy, and Anglican traditions while growing our membership and preparing for the challenges that are coming our way.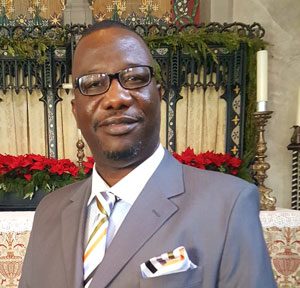 Samuel Massaley
My family and I have been member of Trinity Episcopal Church for four years and have graciously served in the Ushers and Chalice Bearers Ministries. My desire to serve on the vestry will afford me the opportunity to blend my work experience to reach out to the needy in our community especially, the disabled and also explore the possibility for Trinity to establish new partnership with the Episcopal Church of Liberia. Remember, "in Christ there's no East or West, no North or South but one great fellowship of man throughout the whole wide world".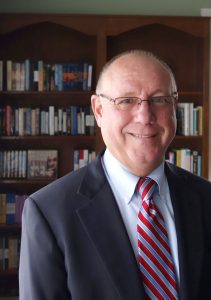 Scott Whitaker
It is an exciting time at Trinity Church and I am very optimistic for our future. Our current members create a warm and welcoming environment which I believe we are called to share. Having served in ministries across life's spectrum – young and young at heart – I am particularly interested in expanding where I see a gap – young adults. As an urban church, I believe there is potential to reach out to the growing trend of those choosing to make downtown their home and would like to explore that outreach with our existing programs.