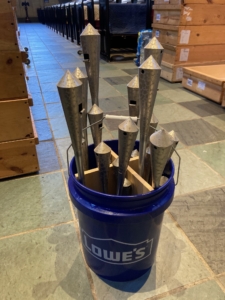 It's been a very exciting week in the Trinity sanctuary! This week our organ pipes were removed to begin the work of revoicing them. Re
Read Dr. Messina's account of the exciting changes, and check out the photos below:
In 2017 Trinity Church was awarded a substantial grant from the Allen Whitehill Clowes Charitable Foundation, Inc. for the revoicing of our pipe organ, as well as a celebratory concert series.
In 2018 Trinity signed a contract with the firm Quimby Pipe Organs, Inc. of Warrensburg, Missouri, for the completion of this work. Their firm has built and restored many significant instruments across the country, including those at St John's Episcopal Church (Lafayette, Indiana), the Cathedral of St John the Divine (NYC), Fourth Presbyterian Church (Chicago), the Cathedral of St Paul (Minnesota), and St Paul's Episcopal Cathedral (San Diego).
Two years have now passed, and this week the crew from Quimby has carefully packed our 3,500 pipes into a truck for transport to Missouri, where the work will be done. We will have a majority of the pipework reinstalled in time for Christmas, with the full job completed by Easter 2021. At this time, I would expect the celebratory concert series to take place in the 2021-2022 year.
What is revoicing? There are many elements to pipe design and voicing: whether a pipe is made of metal or wood, the physical dimensions of each pipe, modifications made to each pipe, and wind pressure; these all determine the volume, color, and speech of each voice in the organ. When this revoicing work is done, our organ will be more colorful, warmer, and more heroic. By the time we are able to again gather and sing, the organ will more successfully lead and accompany our congregational hymns and choral anthems."